Layout Software
WieWeb software's main product is the layout editor CleWin. CleWin is a layout editor we designed in cooperation with the MESA+ Research Institute at the University of Twente and Deltamask, a mask making company. Since we started with the development of CleWin, more than 15 years ago, the product has evolved from a simple editor to a powerful mask design tool. The product has been very successful over the years and is used worldwide in 33 countries at hundreds of companies and universities.
CleWin runs on a PC with Windows 7 or higher. It is compatible with other layout packages since it uses the standard CIF and GDS-II file formats. Furthermore, CleWin can read and write the AutoCAD DXF format. High resolution (Encapsulated) PostScript is available as output format. Bitmap files can be easily imported using the separate bitmap import utility.
Because CleWin is also meant to be used by students a lot of attention is given to the user interface. CleWin is a hierarchical layout editor, i.e. a layout consists of symbols (also called cells) which may be nested. Editing a symbol in one place will change all other instances of the same symbol. CleWin shows a hierarchical list of all symbols in a design, so that each symbol definition is directly accessible for editing. Furthermore, the hierarchical list provides a clear overview of the file structure and the dependencies between the defined symbols. In version 4, a powerful scripting engine was added, that allows the generation of objects using four different languages: C, Matlab, the MaskEngineer language and Lua. Scripts are especially useful for complex, parametric designs, but also for relatively simple tasks like automatic numbering of chips. In version 5, many more features were added.
The most important improvements in version 5 of CleWin include:
Drawings of designs on the screen is made much faster.
Define and store 10 grid settings and activate these grids by pressing one of the numerical keys '0'...'9'. There is also the possibility, besides the grid size, of changing the color of the grid and choosing between dots, small crosses and large crosses.
When editing a symbol definition, CleWin5 can now show the contents of parent and neighboring symbols semi-transparently in the background. This is CleWin's better alternative to in-place editing. Symbol definitions are edited in their local coordinate system and the inverse transformation is applied to the parent and neighboring symbols in order to connect to easily aligned other symbols.
New primitive objects are added: 'Trapezoids', 'Regular polygons' and 'Circular arcs'.
An unlimited 'Redo' command was added to the existing 'Undo' functionality.
Panning of the window is now possible in all edit modes by using the right mouse button. In version 4 this only was possible in the 'Zoom' mode. Furthermore, because of the faster rendering, the entire image now moves while panning.
The arrow keys can be used to pan the visible area, while drawing or editing objects.
The resolution has changed from 1 nanometer to 1 picometer. The earlier limit of 1 nanometer was due to an internal representation of coordinate value by 32-bit numbers.
The boolean operations 'Merge', 'Intersect', 'XOR' and 'Subtract' can also be used as drawing mode, i.e. while drawing new objects those are directly combined with objects that are already present.
The 'Duplicate' command can now generate regular arrays, duplicate along the circumference of a circle and duplicate along a straight line.
Align commands were added to align objects with respect to each other.
Most dialogs for editing object properties are improved (e.g. for rectangles it is now possible to choose between entering two opposite corners or entering one node and the rectangle's width and height).
Selection of colors and fonts has been simplified.
A 'Maximize work area' command has been added to allow full screen operation of CleWin.
With CleWin version 5.3 a fully 64-bit version of the program was introduced. Furthermore, rendering to the screen has been redesigned and now uses parallel threads to fuly exploit the potential of modern processors with multiple cores.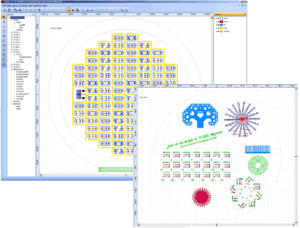 Three editions
CleWin version 5 is available in three editions:
The regular edition consisting of the complete CleWin 5 package with support for scripts in C, Lua, MaskEngineer and Matlab and including the bitmap import and GDS-II inspector utilities.
CleWin 5 bundled with the FlowDesigner software from PhoeniX BV. FlowDesigner delivers cross-sectional process flows (e.g. etching, deposition). These can be exported as an animation, a html report or successive pictures per step.
CleWin 5 bundled with FlowDesigner and advanced MaskEngineer scripting and library elements. This professional third generation parametric mask layout package with a comprehensive feature set is particularly useful when the creation of smooth curves or variations of a pattern is needed. This implementation of parametric layout tools in terms of analytical and design work makes processes reliable, repeatable and hence highly efficient.
Prices: CleWin 5 - € 2590, With FlowDesigner - € 3290, With advanced MaskEngineer scripting - € 3890

For universities and non-commercial research institutes these prices are for an entire research group with no limit on the number of users. For commercial customers these prices are for a 5-seat license.

Special upgrade offers are available for customers having a previous version of CleWin. For a complete price list, please contact us by e-mail. For universities and (non commercial) research institutes, minor updates are free until the version number changes into 6.0. The updates can be downloaded from our Support page. For companies, an update and support contract is offered by PhoeniX BV.

Other utilities

The following utilities are currently available:

A bitmap file (BMP) to CIF converter for easily including photographs and logos in your layout.
A GDS-II to ASCII translator/viewer for checking the structure of GDS-II files.
The utilities are included with the CleWin software or available separately for € 95 each.

Demo versions

A free demo version of CleWin can be downloaded from our Downloads page. This demo version is fully operational except that you cannot write to file. A fully functional evaluation version is available on request. Simply send an e-mail to info@wieweb.com

Ordering

Universities and research institutes can order CleWin 5 directly from WieWeb software by sending us a purchase order by fax (x-31-84-438-5356) or e-mail.
After receipt of your order we will deliver the software by e-mail. We will send an invoice by normal mail.
All software is also available on cd-rom at an additional cost of € 20.

Companies should order CleWin through PhoeniX BV or one of their local representatives.

We accept Visa and American Express credit card payments. Please contact us for a credit card order form.